Victoria Beckham
Victoria Beckham tells her Instagram subscribers not only about family events and new collections. The designer regularly shares his thoughts on charity. But the matter does not end with words - the ex-peppercorn sets an example with real deeds. In 2014, the star was named UN Goodwill Ambassador for the Fight against AIDS. Only by the age of 40 did I realize the responsibility that lay on me as a mother and a woman. I want to help as many mothers as possible. Children should not be born with HIV dependence, - said Victoria Beckham.
The star regularly travels to third world countries and admits in an interview that the acquaintances made on these trips touch and inspire her. In 2018, she traveled to the slums of Kenya as part of the Sports Relief program, which aims to help maliving people in the UK and other countries. Victoria Beckham met the locals, nursed little patients at the Nairobi clinic and boxed with Kenyan girls.
A mother of many children easily connects to other social projects. So in 2015, she put up for sale the clothes of her daughter Harper, from which the baby grew up. In total, Victoria selected 25 sets from renowned couturiers, each of which sold for £ 500 serlling. If translated into rubles, then in this way the star managed to earn a million rubles. All the money raised during the Save the Children's Fashion Saves Live sale charity marathon was donated by the designer to children who suffered as a result of natural disasters.
Emma Watson
Hermione from Harry Potter grew up a long time ago, but there is always a place for miracles in her life ... The actress does not expect them from others, but does it herself. She has been promoting education in third world countries, and has traveled with charity missions to Zambia and Bangladesh. In 2014, like Victoria Beckham, Emma Watson became a UN Goodwill Ambassador. The actress is fighting for the rights of women around the world.
In 2015, she joined the Women for Women International charity marathon with designer items for sale. The proceeds were used to help women who suffered from the war. The organization she supports has been operating since 1993 and has since helped 430,000 victims of armed conflict return to normal life. Participants in its programs are successfully mastering new professions and creating their own businesses to provide for their families.
In the spring of 2018, Emma Watson donated a million pounds to the Justice and Equality Foundation, which supports victims of sexual harassment. The actress knows about this problem firsthand: I went through the whole range of sexual harassment. But what surprises me more is that my experience is not unique. This is a very systemic problem,- shared Emma Watson with fans. She regularly appeals to her subscribers on social networks with an appeal not to remain indifferent and to provide assistance to such organizations.
Keira Knightley
Keira Knightley joined Emma Watson in a donation to the Justice and Equality Foundation. Prior to this, the actress has repeatedly taken part in social projects. She was most shocked by a trip to South Sudan in 2014. According to the actress, she could not even imagine before all the horrors of life in refugee camps. I have spoken to women who have lost their husbands and children several months apart. Now they are alone and desperately trying to survive, - said the actress. People who fled as a result of the hostilities suffer from malaria, they do not have enough drinking water and food. The actress admitted that it is a pity that she is not a doctor and cannot provide help, but she will do everything possible to draw the attention of fans to this problem. The trip to an African country where armed conflicts regularly take place was organized by the Oxfam charity, which Keira Knightley actively supports.
Scarlett Johansson
Scarlett Johansson is also keeping up with her colleagues. She, like Keira Knightley, supports Oxfam. The Hollywood actress does not hesitate to go to the epicenter of tragic events to draw the attention of fans to the importantth world problems. The star communicates with AIDS patients, visits hospitals and helps victims of natural disasters.
Angelina Jolie
Of course, it was impossible not to mention. Angelina is a role model for Keira Knightley and many other stars. The actress has visited more than 40 countries with charitable missions. In 2001, she was named UN Goodwill Ambassador for Refugees, and a year later, Angelina took over as Special Ambassador of the UN High Commissioner.
The actress developed a desire to do charity work after the film Lara Croft, some of which was filmed in Cambodia. The living conditions of local residents impressed her to the core, after which Jolie decided to visit refugee camps and bring medicines and food to those in need. These people are constantly tormented all their lives, from the first day to the last. The pangs of hunger, the pangs of fear of all who are stronger, the pangs of uncertainty, the complete absence of any future. I saw terrible things, it hurts me that I can't help everyone, - shared Angelina Jolie. Fearlessly, she went to countries where hostilities were fought. She has traveled to Darfur, Chad, Iraq and Libya. As a result of her large-scale social work, Angelina Jolie wrote the book Travel Notes, in which she talked about her own path in charity.
Hollywood actress adopted children from different countries, regularly donates money for good deeds - she protects forests in Namibia, helps defend the rights of women in Pakistan, transfers money to Doctors Without Borders. She has received several honors for her outstanding contribution to philanthropy, including the International Committee on Rescue Freedom Prize and the title of Citizen of the World given to her by the International Association of Journalists.
Charlize Theron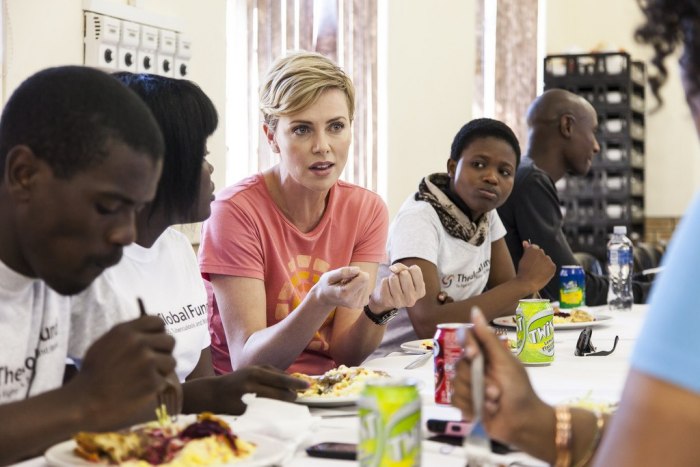 Charlize Theron does not forget her roots. The future Hollywood star was born in South Africa. Having become famous and rich, the actress decided to help the residents of her small homeland, who are not as lucky in life as she is. Charlize Theron has created her own educational foundation - she supports educational programs in the Republic of South Africa. In addition, the actress is an ambassador of the Red Cross, with whose events she has traveled all over the world.
Pamela Anderson
Pamela Anderson doesn't just run on Malibu beaches. In 2013, the actress participated with her brother in a charity marathon to help Haitians affected by the earthquake. The perseverance of the star can be envied - she ran for 5 hours and 41 minutes. Fans were seriously alarmed by the question of how 46-year-old Pamela feels after such a serious physical activity. The star posted a photo on social networks in which she lies in bed. She has a sleep mask on her eyes, and her legs are lined with ice packs. The sacrifice was not in vain - as a result of the action, it was possible to collect 76 thousand dollars for the charitable foundation. This case is far from the only one. The actress devotes her life to the protection of animal rights - she promotes vegetarianism and does not wear fur coats.
Matthew McConaughey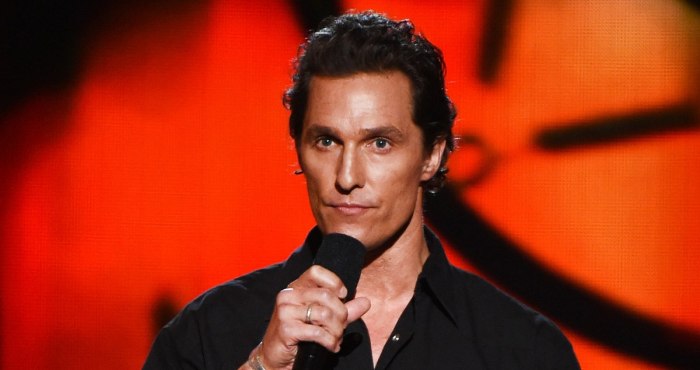 Protects our younger brothers and Matthew McConaughey - he's seriously concerned about the conservation of the natural basin Mississippi. In addition, the actor created a personal fund to help teenagers. The organization promotes healthy lifestyles and engages in educational programs.
Meryl Streep
Meryl Streep has taken a different path - she donates fabulous sums to good deeds, but he tries not to advertise his activities in the press. So in 2012, journalists managed to find out that over the previous years, the actress had transferred several million dollars to charity without publicity. The star supported financially the Vassar Foundation and the Oxfam organization, helped the homeless of New York. She invests in the development of the National Women's History Museum and provides personal scholarships to acting schools.
Jennifer Lawrence
One of the highest paid actresses in Hollywood donates part of her earnings to charity. She told a journalist for the German magazine Focus that before helping financially, she carefully studies all available information about the organization. I realized that I can no longer just work and give myself completely to my business, pretending that I am not interested in this life in anything but fame and money. Helping others is my duty, "Jennifer Lawrence shared. According to the actress, she can never silently pass by injustice and close her eyes to the fact that The star has set up her own foundation She helps the Paralympics Special Olympics financially She has also set up a charity home, a place where children from low-income families can come in summer to learn skills that are useful in their future life, such as caring for garden.